I have wanted to do this post for the past couple of years ever since REA had this ball in their 2010 Auction.
This ball was part of one of my favorite plays in all of baseball; The Merkle Boner Play.
Image Courtesy REA
It was September 23, 1908 when the Cubs were playing the Giants at the Polo Grounds. Jack Pfiester was facing Christy Mathewson in a great pitcher's duel and the score was tied 1-1 going into the bottom of the ninth. Fred Tenney had a bad back that day and John McGraw put in a 19 year old kid named Fred Merkle. It was the first game Merkle had started all season and would be a game he would never forget.
Image Courtesy REA
With Moose McCormick on first base, Merkle came to the plate and hit a two out single to right field sending McCormick to third. Al Bridwell stepped to the plate with the winning run on third and Merkle on first. He swung at the first pitch he was offered and sent a line drive to center for a base hit and McCormick came home with the winning run.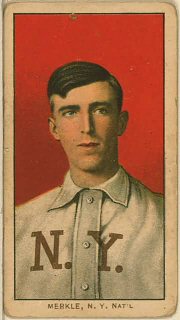 Image Courtesy OldCardboard.com
The crowd went crazy and started to flood onto the field as was usual back then. Here is where Fred Merkle made his mistake. He headed for the clubhouse after the hit by Bridwell and failed to touch second base. Johnny Evers of the Cubs got the ball and forced him out at second base. Now the crowd was already all over the place and the umps, Hank O'Day and Bob Emslie, ruled Merkle out and the game a tie.
Now, because they tied this game, they ended the season tied for first and had to play a make up game to decide the pennant at the end of the season. The Giants lost the make up game and subsequently the pennant. Merkle was blamed and he never lived it down.
The ball that Evers held in his hand on that very play is the ball that was auctioned off in the 2010 Robert Edwards Auction. It sold for $76,375.00. This is a Hall of Fame caliber artifact and an amazing piece of baseball history. To see it at auction was amazing to me and I will never forget when I first saw it in the catalog. I was floored.
Here is a link to the full story from the REA website:
Full Story
Enjoy the hobby all...It's a great one.